Canada & US
Ritual x Doordash Delivery
Ritual Online Ordering facilitates both pickup and Doordash delivery orders in areas with coverage. Please see below for standard Delivery settings for: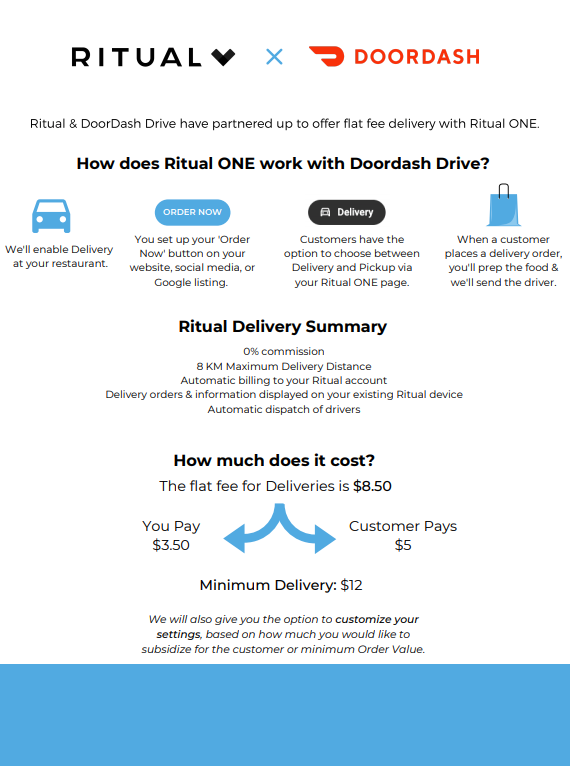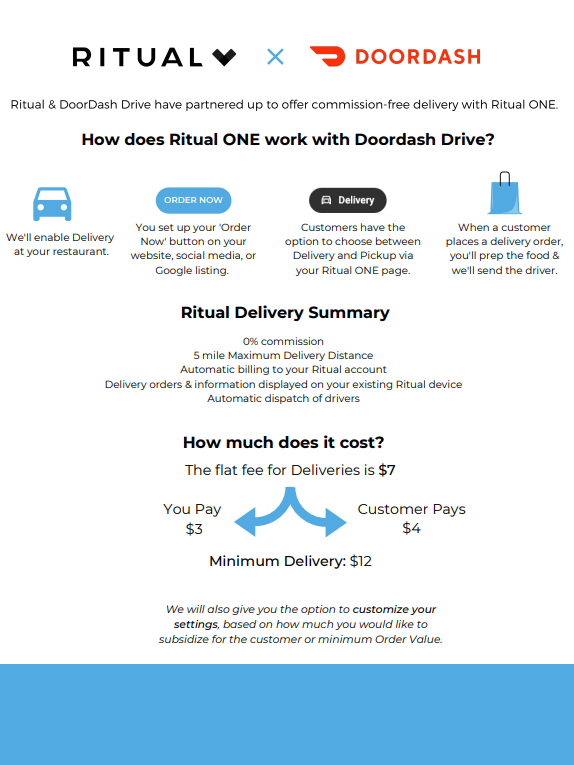 You can enable DoorDash delivery or modify your delivery settings directly in your Partner Portal account.
Navigate to your Settings and select Store Configurations. You will be able to:
Enable or Disable DoorDash Delivery
Configure the Delivery Fee distribution between yourself and your customer
Modify the Minimum Basket Size to be eligible for Delivery
Enable free deliveries above a certain order total
For support on live delivery orders, please contact Doordash Delivery Support at 1-855-973-1040 for help.


United Kingdom
Ritual Online Ordering facilitates delivery orders for the UK through Stuart. See below for additional details:
Getting Set-Up
Please sign up with Stuart at https://dashboard.stuart.com/log-in. You can then enable Stuart delivery or modify your delivery settings directly in your Partner Portal account.
Delivery Settings
0% commission

2.5 miles maximum delivery distance

Distance under 1.5 miles is £5.40, between 1.5-2.5 miles is £6.90 flat delivery fee

Delivery fee can be split however you'd like between you and the customer

Automatic billing to your Stuart account

Delivery orders & information displayed on your existing Ritual device

Automatic dispatch of Stuart drivers
Customer Support
Customers will be advised to contact you if any issues arise with Delivery, and you will be responsible for contacting Stuart through your partnership. To disable delivery with Stuart, please fill out this form.
Refunds
If you need to process a refund, please visit the Partner Portal to submit a customer refund request.
Self Delivery
If you prefer to use your own couriers, please fill out the Self-Delivery Setup Form.
How does self-delivery work?
Operations with a Printer
Once a delivery order is received, and prepared, staple the order chit with the delivery info onto the bag. Deliver directly from the information on the receipt.


Operations without a Printer
Once the delivery order is received, enter order & delivery information into your POS to print a delivery chit; similar to what you would do if a customer phoned in an order.