Selecting the right Home App
After downloading our app, you may notice that you can't "exit" Ritual Store Manager (RSM) as if the App locked your phone. Don't worry, that is not the case! This is likely because you selected Ritual as the Android Default Home App - this "default selection" appears on your screen the first time you open RSM (see below).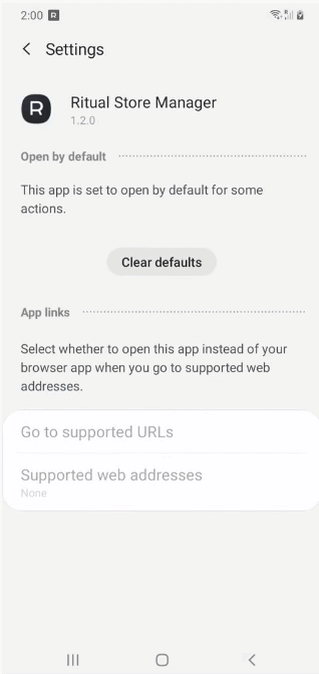 You may want to keep things this way, especially if the device you are using is dedicated to Ritual. That way, you can ensure you don't miss out on any orders!
--
However, you may also be using the Android device for other purposes, such as your personal use! In which case you do not want to have Ritual as your Default Home App. To disable, follow these steps
Open Settings and click on Apps

Click on Default Apps

Click Home App

Select the Ritual Store Manager
--
Avoid Missing Orders
Android Device Volume
We mentioned above how important it is not to miss out on any orders. Commonly, this happens because your volume is not on.
Open Settings and click on Sound

Set Ring Volume to be all the way up (to the right)

If Do Not Disturb is turned ON, click it and turn it OFF
Screen Timeout
You may also want to extend the amount of time lapsed before your screen times out:
Open Settings

Search and select "Screen Timeout" (Varies by device. Other keywords: Sleep, Display, Timeout)

Set to "Never"
Android "Stay Awake" (when plugged in)
Finally, you can set your Android Device to always keep the screen ON (only possible when the device is plugged in)
Go to Settings > About Phone

Click on "Software Information" (if not an option, skip to the next step)

Find "Build Number" and tap on it 7 times in a row

Enter the Device Pin (if device asks)

Go to Setting > Developer Options or Settings > System > Advanced > Developer Options

Select "Stay Awake" (requires the phone to be plugged in)