There are 3 ways to process refunds:
Partner Portal

Ordering Device

Contact Support
Partner Portal
Any users with Admin or Editor access are able to process refunds via Partner Portal. Simply follow these steps:
Login to your

Partner Portal

account

Click the

Sales Report

Tab

Scroll down to

Transactions

Filter to the date when the customer's order was made

Search by the customer's first name (spelling must be accurate)

Click on the order you wanted to refund and the section

Order Details

should appear

Click

Issue Refund

and choose whether you would like to refund the Full Amount, Item Specific or Delivery Fee-Only (for delivery orders only)

If Item Specific - select which items you want to refund

Select the reason for the refund and click next

Review refund summary and click

Submit
The order details page should now show in red "Refunded"!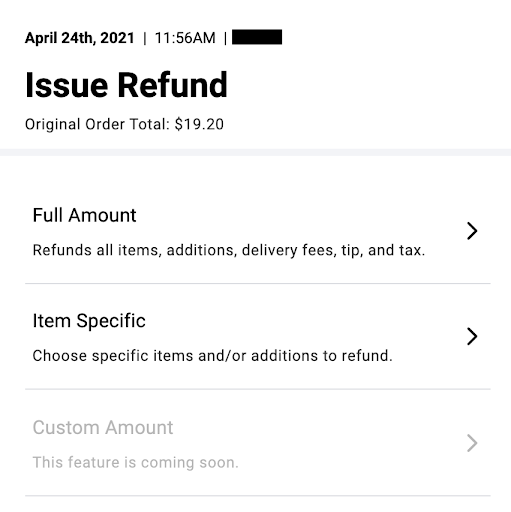 (Refund Type) (Refund Summary)

Ordering Device
You can also process refunds directly on the Ordering Device if you have a Security PIN enabled on Partner Portal. Anyone who knows the PIN number can process the refund on the Ordering Device. This makes it incredibly convenient for you or your store staff members to process the refund quickly!
Follow these steps to process a refund via the Ordering Device:
On your ordering device, click on the

Summary Tab

if you do not have a Summary Tab, please use the Partner Portal method to process the refund or contact us for more information

Click the

Change Date

button and change to the date of the order you wish to refund

Scroll down the list of orders until you find the customer's order

Click the

3 dots

at the top right corner beside the customer's name

Hit

Refund Order

Enter the

PIN number

Select the

Refund Type

(Full Amount, Item Specific, or Delivery Fee for delivery orders)

For Item Specific, please select which specific items you wish to refund

Review the Refund Summary

Click

Submit Refund

to process and you're done!
** Orders are not refunded until it is submitted!

Please note that you are unable to refund orders through Partner Portal or the Ordering Device that have:
Discounts applied

Chargeback disputes

Order is over 30 days old

Contact Ritual Partner Support
If you are unable to process the refund via Partner Portal or the Ordering Device, you may contact Ritual for support.
Please submit a ticket through Partner Portal using the Support Tab or email us at partners@ritual.co.