Add the Order Now button on Instagram
Follow these easy instructions to get an Order Now button set up in under two minutes. Please note, you need to remove any existing Order Food buttons & be a Business Account (Select Restaurant) in order to follow the steps below. If you don't have a Business Account, follow the steps here to make the change!
Go to your Instagram profile
Click Edit Profile

Under Public Business Information, click Action Buttons




Under Select a Button, choose Order Food




Select Ritual as your preferred partner (all orders will be commission-free!)




Copy your custom Ritual Online Ordering link from HERE and paste as the web URL




After you've entered your link, select Done. Now customers can order through Instagram!


Turn your Instagram into a Business Profile
To turn your Instagram into a Business Profile, follow the steps below:
Go to your profile and tap in the upper right corner.
Tap Settings.
Tap Account.
Tap Switch to Professional Account.
Tap Business.
If you'd like, you can follow the steps to connect your business account to a Facebook Page associated with your business. This step is optional and will make it easier to use all of the features available for businesses across the Facebook family of apps. At this time, only one Facebook Page can be connected to your business account.
Add details, like your business category and contact information.
Click Done.
Creating an Instagram account is a great step to letting your loyal customer know more about your brand, and can often serve as a key touchpoint with your regulars looking for more information on updated hours, schedules, or ordering protocol.
By creating a business Instagram account you also unlock features to engage with your customers and understand how your different campaigns or posts are performing. With a business account, you are able to get insights into your post-performance, create a contact button so they can give you a call, and boost sales through swipe-up stories!
Drive Orders to Multiple Links in your Bio
On Instagram, you are only allowed to have one link in your account bio, which may be difficult if you want to provide access to different online menus or delivery services available directly through Instagram.
There are a few different services you can use to create a page that allows you to create these links. We recommend the following:
Generate Orders from Instagram Stories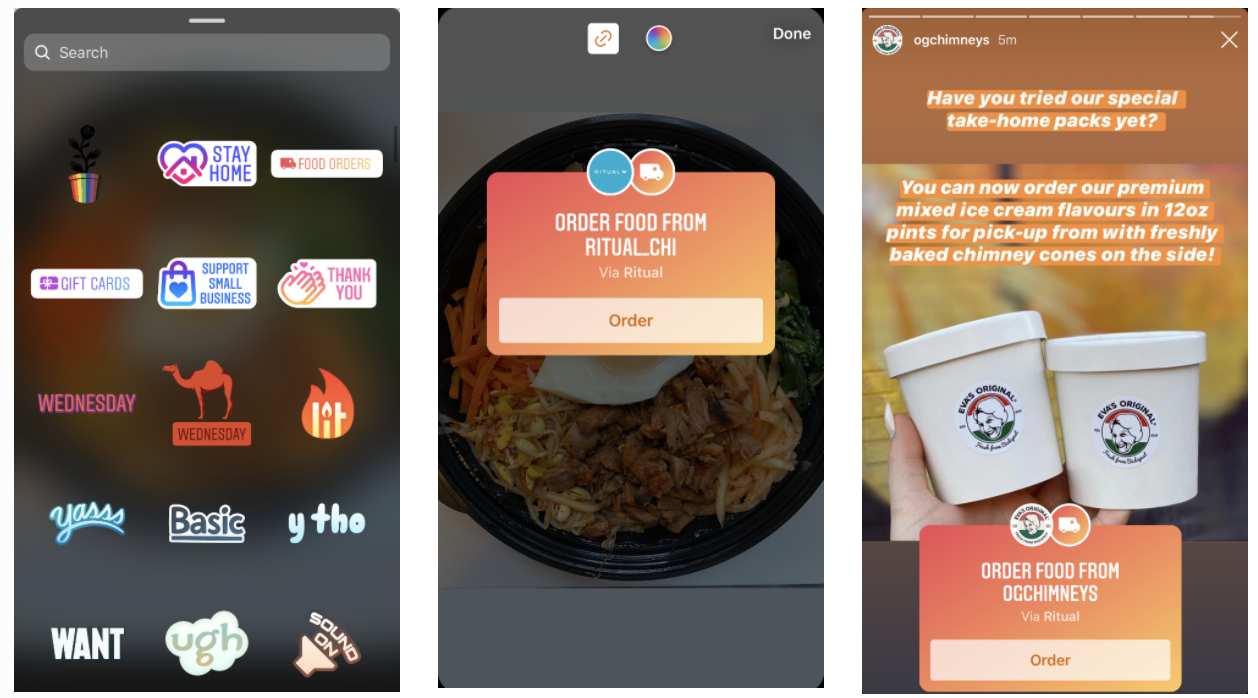 Step 1 & 2: Uploading Your Story
Step 1: Click on the "your story" button on the top left corner of your Instagram page where your logo or icon photo is present.
Step 2: Choose your image (or take a photo) and simply swipe up.
Step 3: Enter the URL
Once you've clicked the link image, you'll be brought to a page where you can connect a URL to your store. Enter the URL where you want users to arrive. We suggest linking this right to your Ritual Online Ordering page to allow people to swipe and order. Click here for an example.
Step 4: Create a Call to Action and you're done!
That's it! It's best to create a 'Call to Action' and let your followers know they can order from you directly from your Instagram stories. (and yes, all orders will be commission-free!)Want more story inspiration? Check out our partner, Dollop Coffee! Their highlights are second to none!
If you're still experiencing problems with your Instagram link, please reach out to Instagram support:
Head to your Instagram profile
Select Settings in the top right
Scroll down to Support > Report a problem
Follow the instruction prompts