How to edit existing Modifier Groups:
1. Select Menu in Partner Portal.
2. Click on the Modifier Groups tab.
3. To edit a modifier group, either search for the modifier group in the search bar or scroll down and click on the modifier group.
4. You can edit the following fields:
Modifier Group Name (customer-facing)
Internal note (optional)
Minimum/Maximum threshold
5. Click Save.


Modifier Group Name
This is your opportunity to create 'action' items for your customers. By using words like "Choose", "Add", "Modify", "Select" you are asking your customers to act on the options. These titles are customer-facing and are displayed on your menu.
Internal Note
This field is optional but is helpful in organizing your menu. It can be used as an internal "description" for the menu editor, to describe the modifiers included, or what items the modifier group applies to.
Minimum/Maximum Threshold
You can set the minimum or the maximum number of options that customers may select. For example, for a mandatory modifier, such as a size option for a latte, you would set the min/max as 1/1 so that a default is selected but customers are given the choice to change it.

For add-ons, you would set the min/max as 0/0 as you do not want to limit the number of add-ons that customers can select to increase their cart size, while also not forcing customers to add extra options onto their item. For more tips see: How should I set the Minimum or Maximum threshold for a Modifier Group?
How to edit the fields in Modifier Groups

:
Navigate to the Modifier Groups tab in Menu Manager, and search or select the modifier group you would like to edit.
1. Click on the modifier group or the pencil on the right side.

2. To update the title, edit the Modifier Group Name field and click Save.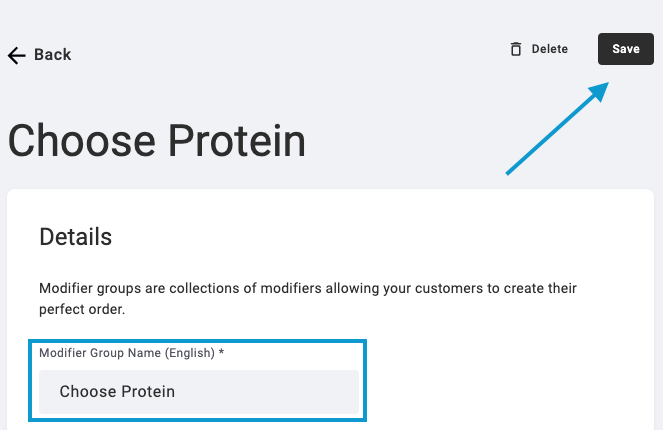 3. To update the Min/Max threshold, edit the Minimum & Maximum fields and click Save.